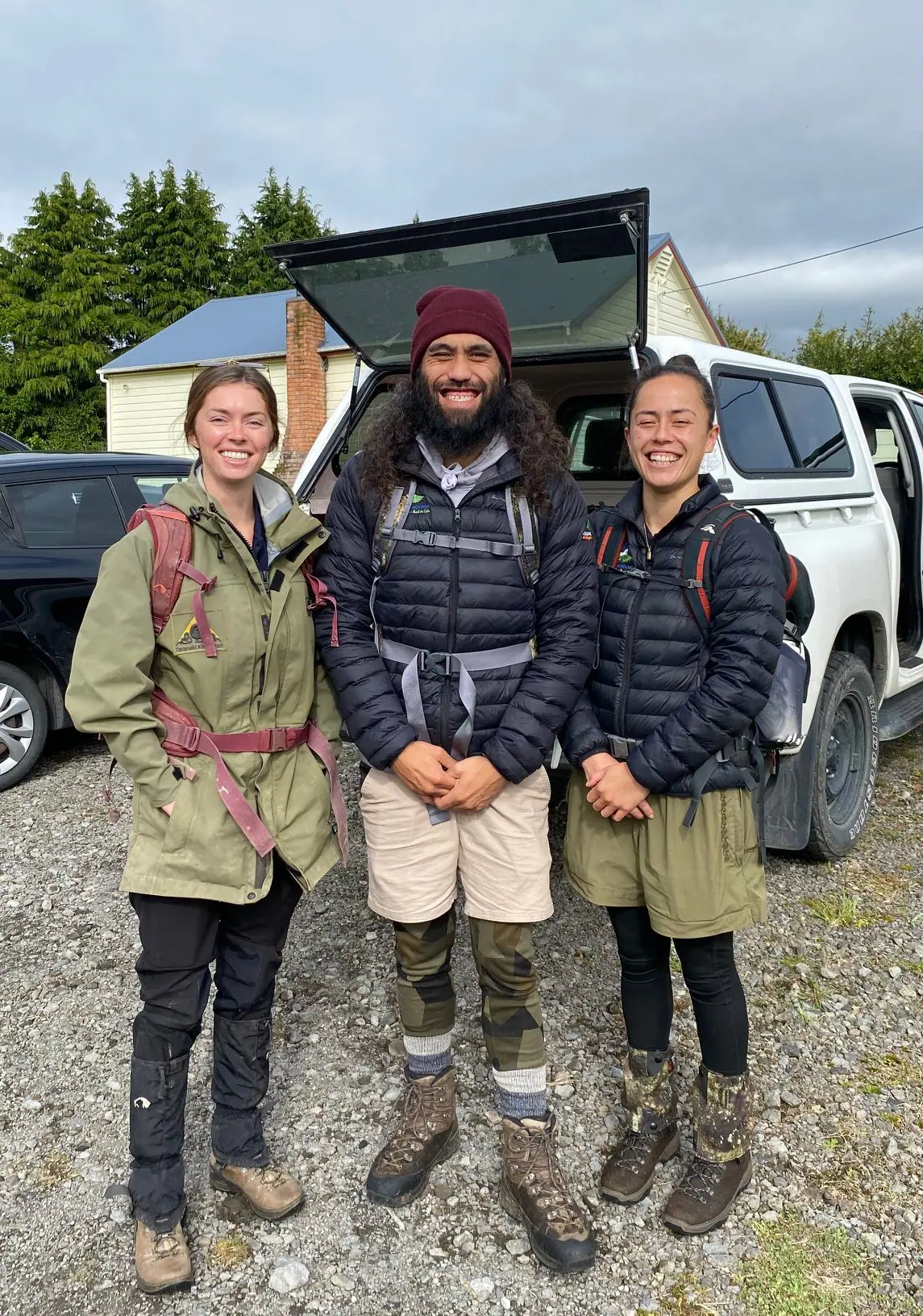 16/11/2023
Apprentices Graduate
From helping out to now organising things, Mereana Hanrahan feels she's come a long way in her apprentice journey.
"My knowledge has grown in so many ways – from operating a GPS, reading the land and identifying trees and manu. At the moment I'm organising our crew for monitoring toutouwai, and when I first started out I was a helper with that project, so it feels like I've come full circle," she says.
Mereana along with Mawene Bidois, Jarvis Edwards and Maia Gibbs recently graduated from their two-year Ranger Apprentice programme, funded by Jobs for Nature and PredatorFree NZ. They work for Taranaki Mounga Project and Maia for Taranaki Kiwi Trust.
Taranaki Mounga Project Operations Manager Ngahina Capper says it's a great achievement seeing them complete the requirements of the apprenticeship, including the study component at Te Pūkenga/Witt. "Creating opportunities is central to the Project and the apprenticeship is part of that. They have bright futures ahead, and we see them all as pivotal in terms of our succession modelling."
Mereana says she's gained a more realistic outlook of the mahi involved now, compared to when she started. "I still love it, even though I know it's hard work. It's treasuring the skills that we've gained and being capable of so much in the taiao space, and there is still lots to learn."
Mawene agreed the highlight has been the relationships they've formed, meeting people from other organisations.
Mawene says their relationship skills have developed through connecting with other groups, including iwi, restoration groups at Maungatautari Sanctuary and Zoolandia Wildlife Sanctuary, as well as with kaumatua. "I consider them all my whanāu, we're all doing the same mahi though in different locations."
Mawene adds, "I've come out way better than when I first started this. Just being out in the field and in my conscious being, I'm way more in touch with the whenua. For example, I didn't use to hear the birds but now I do and I can pick out individual species."
Taranaki Kiwi Trust manager Celine Filbee says she is thrilled with the programme. "Maia came to us as a novice but she had absolutely the right attitude. She is now a thoughtful, efficient and diligent trapper with a host of other skills in her bow, including a kiwi handling accreditation."
The real win was the friendships and partnerships made through the programme, consolidating what was already a strong relationship with Taranaki Mounga Project.
Jessi Morgan, from PredatorFree NZ, said Taranaki responded in a big way when the call went out for predator free apprentices more than two years ago. "At one point we had 8 apprentices based around Taranaki.
"Before the Predator Free Apprentice programme, there wasn't a clear way into a career in predator control and conservation. But, helping and nurturing young people to get their hands dirty on their own whenua, with real-life experience and on-the-job training to protect vulnerable native species, has been a big hit.
"We have made predator control a viable and attractive career path for young people – otherwise, we will have nobody to deliver the mahi for a predator free Aotearoa by 2050."
About 65 apprentices will graduate by mid-next year through the Jobs for Nature-funded programme.