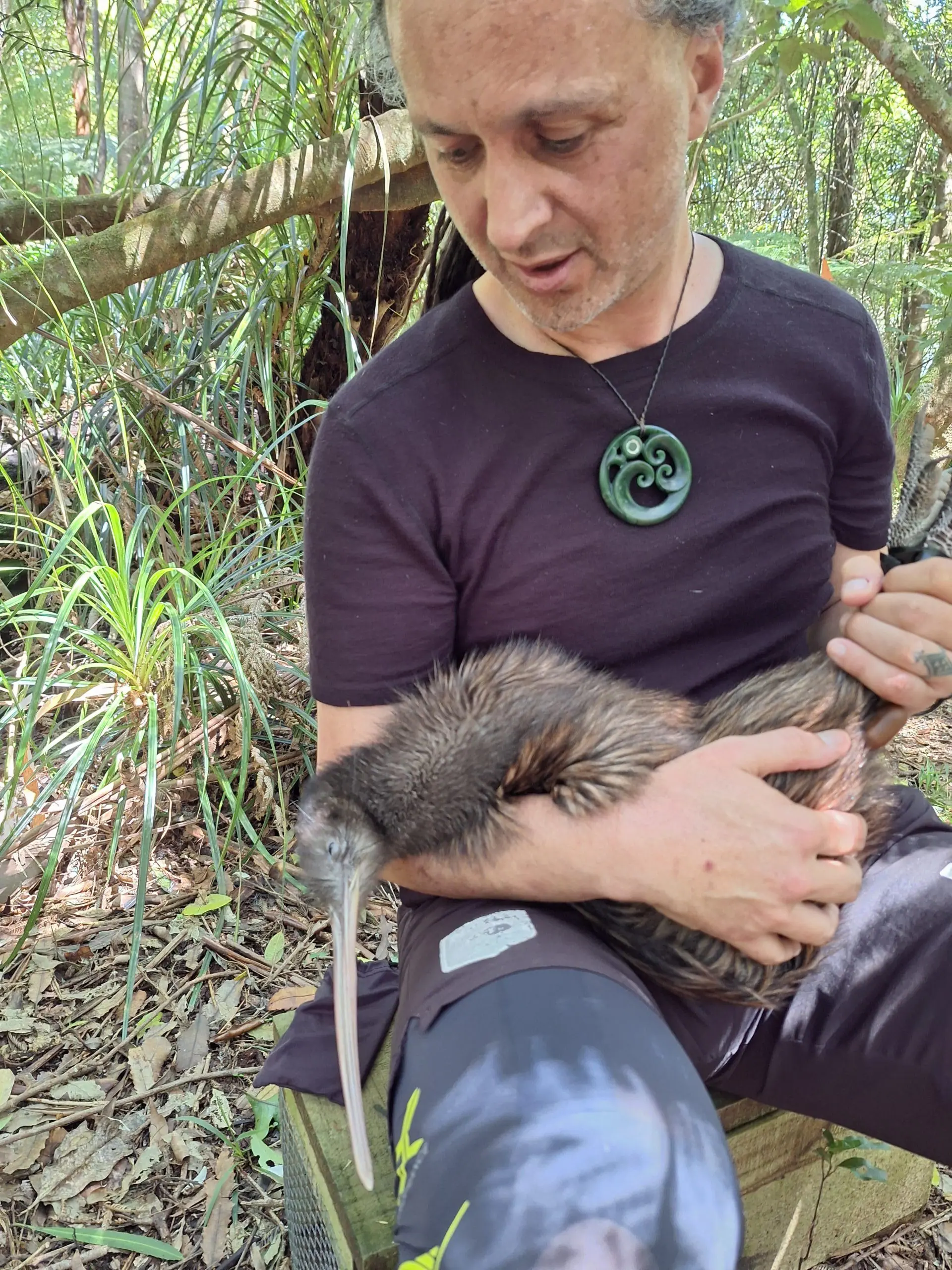 01/11/2023
Kiwi adventures beyond Kaitake
A feisty kiwi has been returned to Kaitake Ranges after an adventure across paddocks and past houses.
Taranaki Kiwi Trust staff and volunteers have been monitoring the kiwi, along with other kiwi who were relocated to Taranaki Maunga in April this year as part of Taranaki Mounga Project's kiwi programme.
Six months after arriving on the Kaitake, Katie the kiwi (named after a nearby landowner) left the protected park area of Te Papakura o Taranaki and over several days ventured close to houses on Kaitake Road and Surrey Hill Road, near Ōākura.
Tāne Manukonga, kaiwhakahaere of environmental educational group Te Ara Taiao, helped find Katie with Taranaki Kiwi Trust ranger Toby Shanley and took her back to Kaitake.
Tāne said she was fiesty and mad when they picked her up. "I've never seen a kiwi behave in this way wanting to bust out of her box. We found her 50 metres from a dog and a house in her own slice of heaven, a little piece of secluded bush, but it wasn't safe for her to stay there."
Tāne said he'd learnt so much about kiwi behaviour and the wider project through relocating Katie and would be sharing it with students, including those at Ōākura School who are involved in monitoring kiwi.
Taranaki Kiwi Trust ranger Toby Shanley said it would be fantastic in the future to have kiwi living beyond the national park and not need to move them, but there was still significant work required for their protection.
"It's a good reminder for landowners to continue trapping to reduce predators, such as stoats, and also to have your dogs go through kiwi aversion training. Eventually we'd love to see the kiwi population grow beyond park boundaries."
Toby estimated Katie the kiwi travelled about 5.5 kilometres from her home on Kaitake.
As part of the DOC permit conditions, kiwi need to be kept as safe as possible. That means having them in protected areas with extensive trapping networks and relocating them back if they move.