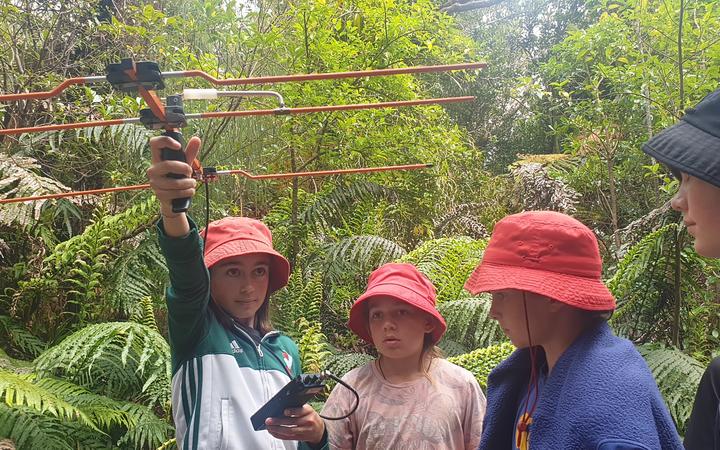 10/11/2021
Students crack code revealing kiwi chick will soon hatch
A group of Taranaki school children enjoying a crash course in kiwi tracking in Te Papakura o Taranaki (Egmont National Park) have been let in on a secret…
Five pairs of the national bird released onto Kaitake maunga in April are in the midst of a baby – or should that be – chick boom.
A transmitter carried by Haimona – one of 10 western brown kiwi transferred to the Kaitake ranges from the Rotokare Scenic Reserve earlier this year – is beeping in patterns indecipherable to all but those in the know.
Taranaki Kiwi Trust operations leader Sian Portier​ is translating the code with the help of children from Oakura School.
"So there's nine and four there … so minus two from nine is seven [and two from four is two] … so 72 days he's been sitting. So, like I said 75 is about hatch time so any day now he should hatch out."
Kiwi had been absent from the range for decades. But Haimona is incubating an egg, about to become a dad, and he's not alone.
Portier said the kiwi were wearing a transmitter with a mercury switch which recorded their activity every 10 minutes.
The telemetry codes or beeps provide a wealth of information.
"So those codes will tell us everything from how long a bird has been incubating or if it is incubating what state it's in, down to what time it came out to feed last night and how many hours it was actually out for last night, the night before and an average over the last four nights as well."
Read the full Radio NZ article here.