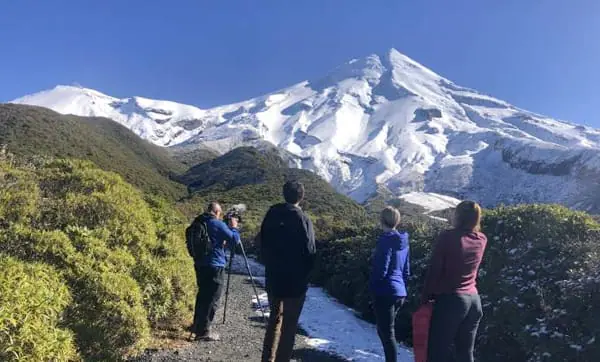 04/09/2021
Students in lockdown can go on virtual field trip
Taranaki is the most likely New Zealand volcano to cause a national-scale impact in our lifetimes and a new virtual field trip will help prepare tamariki across Aotearoa to understand and cope with possible disruption.
Prevailing winds could carry volcanic ash to Auckland, Waikato and the Bay of Plenty to disrupt air and surface transport, tourism, farming, power and water supplies.
Previous eruptions have continued for years, decades, or even centuries.
The virtual field trip, Volcanoes: our sleeping mounga in Taranaki, has been produced by the Earthquake Commission, the Volcanic Futures project and online field trip producer LEARNZ, to teach students about volcanic hazards, science and mātauranga.
LEARNZ kaiārahi Shelley Hersey, who is hosting the field trip says with so many students in lockdown, this virtual field trip is a free, accessible, inspirational and informative learning experience to explore Taranaki mounga, for students in Taranaki and around the country.
"Students will learn about volcanoes, but they can also look at ways people are working to understand and monitor volcanic processes to support community preparedness and resilience," says Shelley.
Read the full SunLive article here.