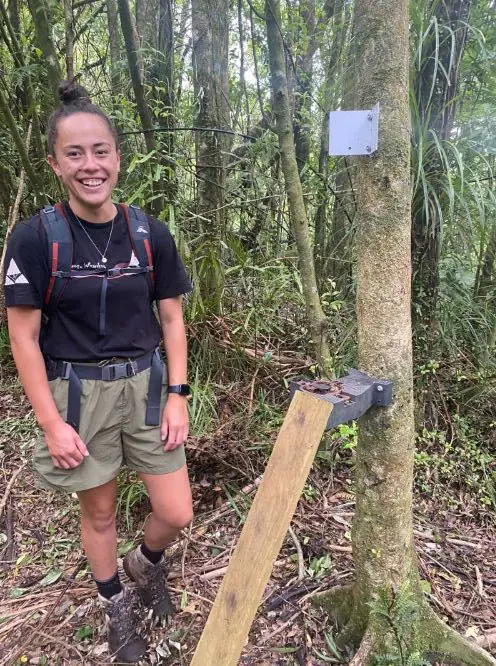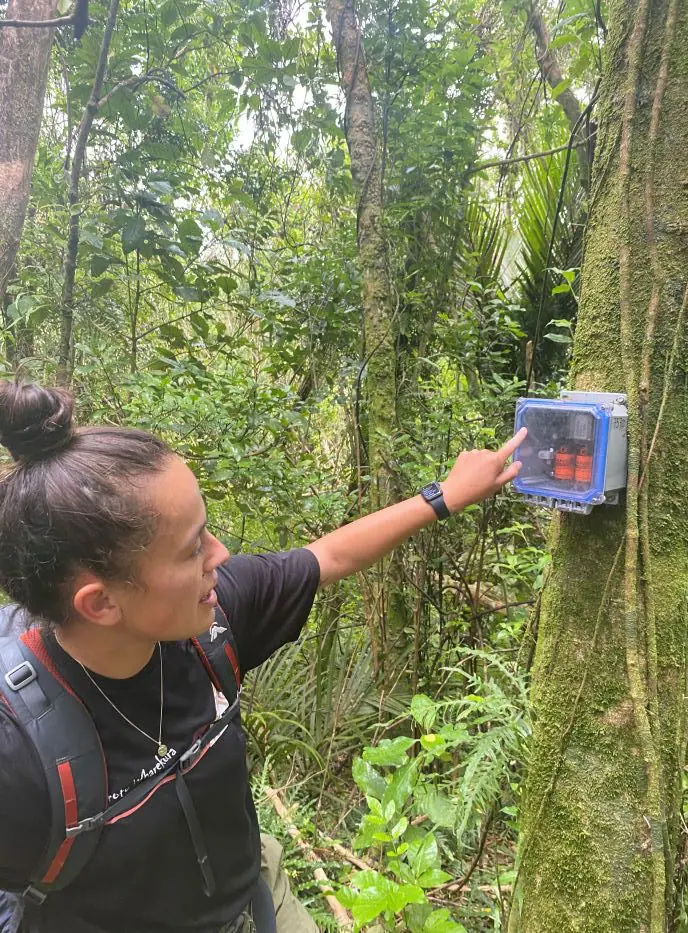 Ka whakamahi ana a Mereana i te pūngao hei whakaora i tōu tātou koroheke mounga. Ahakoa he uaua, ahakoa te kino o te kano-ā-rangi, ka whakakikī tonu tōna kete mātauranga.
Mereana Hanrahan never realised how much technology was involved in restoration efforts on Taranaki Mounga and the Kaitake Ranges.
"It's been a big learning curve – it was really surprising how much tech was here," she says, nearly two years into her role as an apprentice ranger with Taranaki Mounga Project.
The lingo – 'sat' box, nodes and Lean Detection System – rolls off her tongue as she explains some of the cutting edge tools and processes used by the team.
The Lean Detection System has been important for dramatically lowering possum numbers in the Kaitake Ranges and supporting native species to come back. Mereana explains that seeing more flowering kiekie is one example pointing to improved biodiversity – possums love to eat the sweet flowers so they used to be rarely seen.
The trapping system uses satellite technology, connecting leg-traps digitally via 'nodes'. Rangers are alerted via their phones when a trap is set off.  The Zip Outpost and Zip PosStop traps, developed and trialled by Zip, are simple, humane and save time, as traps don't need to be unnecessarily checked.
"Just call us tech geniuses," she jokes, as she explains some of the problem-solving required when things don't work quite as they should.
Occasionally the signal can get blocked between traps, say from wind or fallen trees. That means walking up a trap line to figure out the problem and using a "tech in the bush" approach – trial and error working with the equipment and technology in the landscape.
There is also a network of cameras fixed to trees, providing data of how traps and lures are working and what predators are in the area -leading to identify increased numbers of feral cats.
Mereana says it's physically demanding mahi, however she loves connecting with the whenua and the diversity of being a ranger, which includes helping DOC monitor native species like whio.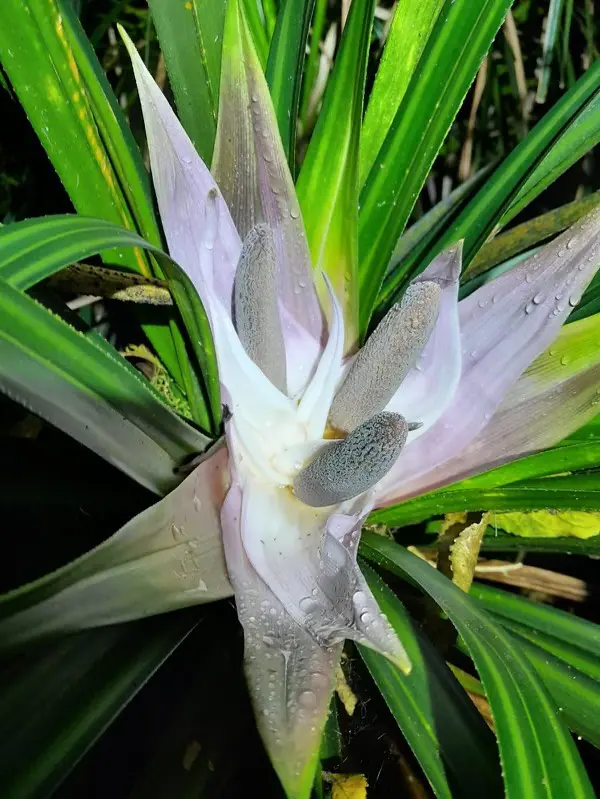 Flowering kiekie -a sign of improving biodiversity (credit: Shaun Baylis) and images above: Mereana Hanrahan with a legtrap and a satellite box on the Kaitake Ranges.